Seems quite a few visitors to the site are interested in dogs and kayaks. We've talked about this before here. And there's been at least one other episode with our German Shepard when she was about 4-months old.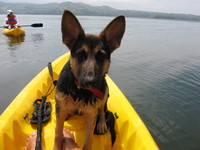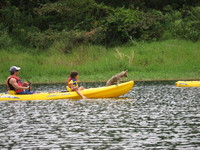 But now, just the other day, a family from San Jose came up for a tour and they had their dog with them!
So, yes, dogs and kayaks can co-exist. Last time we took our Shepard along she swam and ran along the shore more than she rode on the kayak. Seems like good exercise for a dog and depending on the size and age they can either just ride along or have some fun swimming and running.