Arenal Kayaks had the distinct pleasure of hosting a World Champion canoeist (British for kayaker) and Olympic contender, Anna Hemmings, yesterday! Anna and her husband, Neil, joined us for a sunset cruise which didn't start out too well in the rain but ended with a spectacular sunset.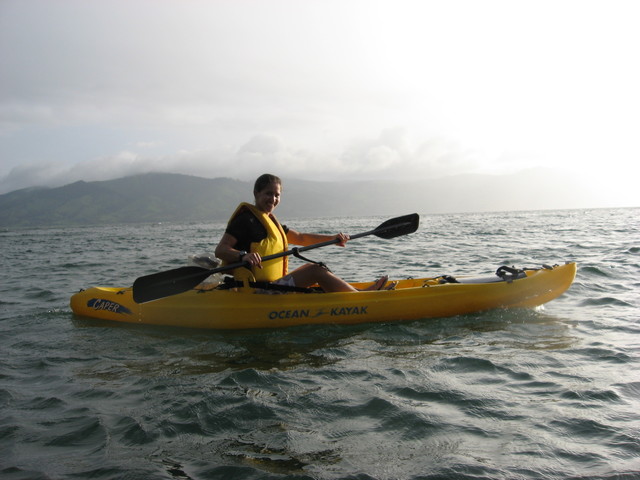 Anna started out paddling like an Olympic champion and I was worried about keeping up. Even with my Great Auk being much faster than our rental Ocean Kayaks she was making me pay attention to paddling. Looked like this wasn't going to be one of our "normal" leisurely outings to enjoy the scenery and wildlife. But, after that initial sprint, and seeing that Neil was a bit behind, we all got onto the same pace.
The afternoon had been sunny and breezy prior to the call but by the time we had the boats in the water the dark clouds, rain, and wind came to make the start of our tour a little challenging. We headed upwind to one of our favorite spots where a river flows into the lake. It's a very calm spot and you can paddle upstream a little ways. The jungle is right down to the water which gives our paddlers a chance to appreciate the jungle beauty. By the time we left this spot the rain had stopped and the sun was peeking through.
Lake conditions were pretty rough for this tour. Quite windy which means the surface current was strong with large waves and whitecaps. Fun to surf the waves but always a challenge to go downwind in the Great Auk. The currents tend to drive the stern of the boat around forcing a lot of rudder action with the paddle to maintain a heading.
But, all that aside, I think they both enjoyed the tour and the spectacular sunset.
Thanks Neil and Anna for letting us show you our piece of paradise.