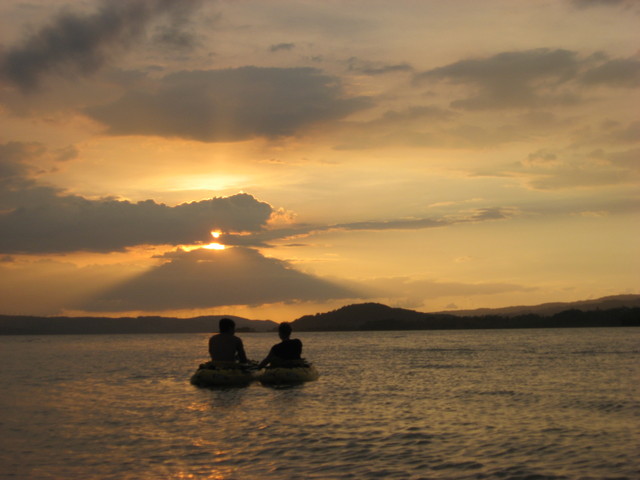 We had great weather in April! As a result we did a couple of sunset tours, and a full moon tour. Being on the lake in the afternoon is every bit as pleasant as in the morning. The lake level has gone down a couple meters so we chose to explore some of the rivers to see how far they go. We proceed slowly and quietly listening to the birds. There is a kingfisher in the trees along the edge, fishing, he flies chattering away when he spots us and we get too close. We can see bubbles coming up from the bottom and speculate whether it is fishes, turtles or frogs? On this day we do not see the otter, although we have spotted them in the past along this stretch.
After exploring the rivers we emerge to travel along the shore where we see more birds. Sometimes we see a Greater Egret in the brush, then watch as it flies away, gracefully and sometimes noisily, complaining because we have disturbed it. Lately we've been seeing the Anhinga along the shore perched on a branch. When we get close they also fly away, or sometimes, surprisingly, dive into the water as a way of escape! When they resurface only their head and neck are above water demonstrating their common name of "snake-bird".
Another species of bird, the Jacana, we have only seen in the lagoon behind the park. This medium size brown bird is remarkable in that his wings show yellow as he flies away. A rather shy bird and hard to get close to, but often seen in pairs. I have also seen iguana on this part of the lake. Sometimes spotting him sunning himself on a high branch up in the trees.
As we paddle back to our pick up point there is a good view to the west where the sky begins to light up with another beautiful costa rica sunset. We never know what birds or wildlife will be experienced on any given tour. It is a matter of looking, listening and being open to what the day has to offer.
There are no pictures of the full moon tour except those in your head, so picture this . . . the lake is like glass and the full moon shines brightly . . . All is silent . . . only frogs croaking along the shore . . . the air is warm as a slight breeze drifts the kayaks westward . . . clouds begin to form and the moon is hidden allowing the stars to shine brightly in the darkened sky . . . words are unnecessary as one breaths in the peacefulness. . . the moon reappears between fast moving clouds . . . muscles relax as the days' toils and worries ease . . . ahhh . . . another beautiful kayaking adventure!